The long-awaited Page Experience update is almost upon us – meaning it's time to get your website up to Google's new ranking standards.
This summer, Google is rolling out a new Page Experience signal, a combination of several site performance metrics that will affect where websites rank, but is your website ready for what the search engine is about to throw at it?
Every day, over 3.5 billion searches are conducted on Google, though incredibly, of the people conducting these billions of searches, 75 percent will never get beyond the first page of results.
It's no great surprise then that ranking well on Google is vital for any online businesses as, if you don't, potential customers might be totally unaware that you even exist.
As a result, businesses have been investing time and resources into creating pages and content designed to rank well–and therefore be easily found–in Google's search results.
But now things are about to change.
What is Google Page Experience?
Google is introducing the Page Experience signal, a new algorithm to determine a page's overall experience and rank it accordingly.
Put simply, user-friendly websites will rank higher than sites that aren't user-friendly following the update.
That's because Google is looking for how usable a website is and the purpose of the update is to ensure sites that users hate aren't ranking at the top.
The new Page Experience signal will determine how good or bad a site's user experience is, and that will factor into where it ranks in search results.
According to Google, the new page experience signals combines Core Web Vitals with its existing search signals including; mobile-friendliness, safe-browsing, HTTPS-security, and intrusive interstitial guidelines.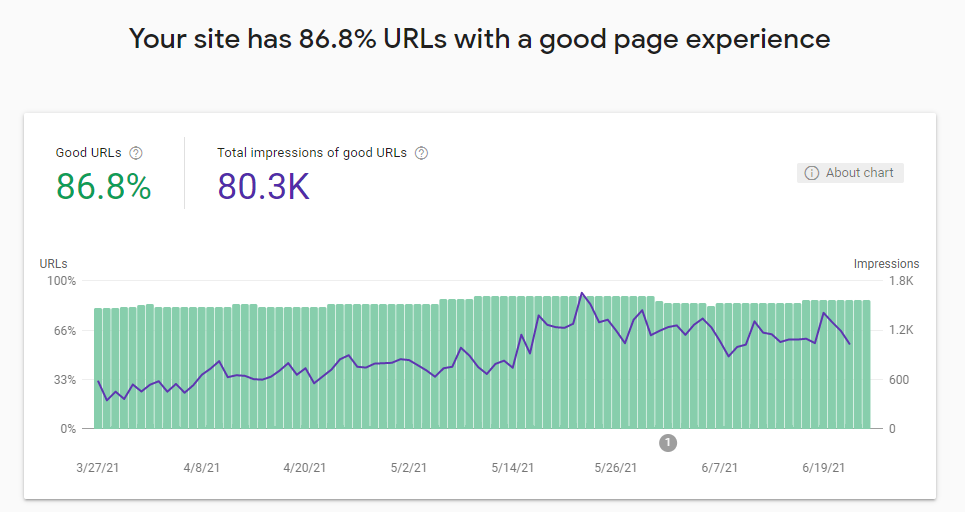 How to Make Sure Your Site is Ready for Page Experience
Google's goal is to help users find the most relevant and highest quality sites on the web and provide them with the best onward experience from search results.
As a result, the Page Experience update will provide an overall picture of the quality of a user's experience on a web page.
So having poor page experience signals could negatively impact your search rankings or be a decisive factor in outranking your competitors.
The page experience update is broken down into five criteria which combines existing signals with the new 'Core Web Vitals' signal.
Core Web Vitals
Mobile Friendliness
HTTPs
Interstitial use
Safe Browsing
With that in mind, here are a few factors you should be aware of if you want your website to, not only perform to its potential, but rank as highly as possible on Google.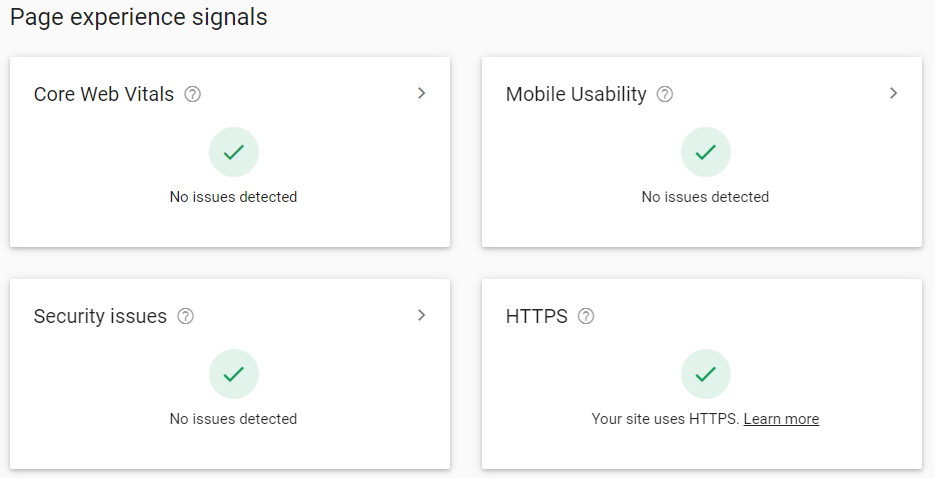 Make sure your website is mobile-friendly
As part of the page experience update, mobile-friendliness will have a major impact on your website's ranking.
Of course, making your site mobile-friendly is necessary for most sites, as well as being a good long-term investment.
But it appears Google will now be ranking sites based on their ability to work on mobile devices.
To assess whether your website is mobile friendly you can run pages through Google's mobile friendly test.
Improve your site speed
Loading time is one of the elements of the Core Web Vitals.
That's because, the quicker a page loads, the better the page experience and the better your odds are at ranking.
Tools like Google's PageSpeed Insights quickly analyse the content of a web page and generate suggestions to help improve your page speed.

Increase site security
Part of the Google Page Experience update includes a focus on site security and browsing safety.
So this is a pretty good time to double-check your site to ensure that it offers a secure HTTPS connection.
Take a look at your site's URL – if it begins with HTTPS you're covered, but if it begins with HTTP, you'll either need to purchase what's called an SSL certificate or turn on SSL within your domain provider.
Offer Compelling Content
One of the best things you can do to prepare for the Google Page Experience update is to focus on your content.
Even with the new Page Experience update, good quality content is still said to be the leading factor in page rank – meaning it's vital that you ensure your content is the best quality it can be.
So have a think about who your audience is and create content designed specifically for them by providing answers their questions, that way you'll guarantee a superior user experience.
Act now
Following the rolling out of Google's algorithm update, your website could be penalised if it offers an experience that isn't user-friendly.
If you don't take action to improve your website's user experience, you will see traffic plummet as your ranking goes down.
Our digital marketing experts understand how search engine algorithms work and can strategize ways of helping your website appear higher in their ranking positions.
So if you need help optimising your website for the Page Experience update, or any other reason for that matter, then get in touch, we'd love to help.
Call us on 0151 708 5813 today or email: hello@neilfoulkes.com