Meet Abby who has recently completed her Digital Marketing Apprenticeship. 
During her apprenticeship, Abby not only improved her skills in various aspects of digital marketing, but also gained valuable hands-on experience working with the team. Her dedication and hard work paid off as she earned a distinction when completing her Digital Marketing Apprenticeship through Baltic Apprenticeships. 
Abby is now a qualified Junior Digital Marketer, who is well-equipped to take on the challenges of the digital marketing industry and make a meaningful impact in her career. 
At Studio Coact, we're thrilled to have her on board and look forward to the fresh creative ideas she can bring to the Digital Marketing team.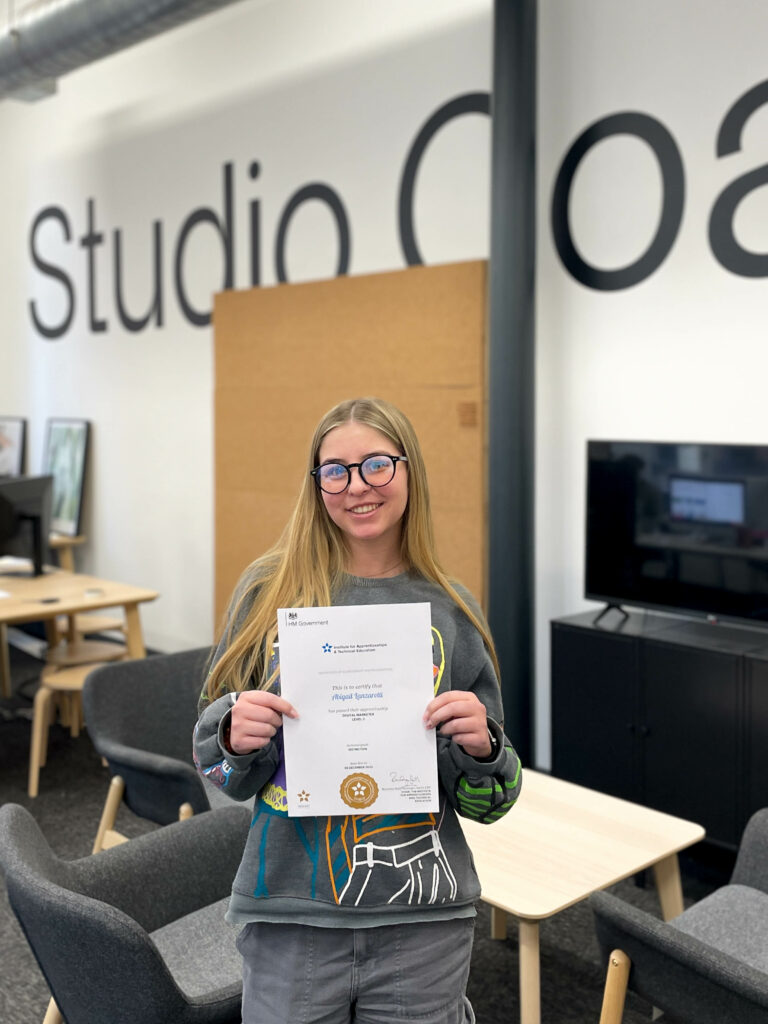 Why did you apply for an apprenticeship?
I decided to apply for a Digital Marketing Apprenticeship through Baltic Apprenticeships because I wanted to understand how to apply my social media skills in a job environment. I feel that learning on the job is more rewarding than going to University because I can earn a salary whilst developing new skills which can help with my career progression. For example, by working with the design team at Studio Coact, I was able to learn how to create professional looking social media designs using software such as photoshop.
What part of Digital Marketing do you love the most?
I have a keen interest in social media as I use it everyday and I can now apply my knowledge of social media in my job role. I am always looking at creative ways to connect with audiences by staying up-to-date with current trends on the latest platforms, such as TikTok and Mastodon. 
Using my passion for social media, I have been able to suggest new ideas to the team which has lead to us creating a Studio Coact TikTok and reach out to a bigger audience. Being able to create TikTok videos is definitely a highlight to my working week! During my apprenticeship I worked with the creative team to come up with new ideas such as:
Our Office Lunches

No Context Slack Messages

Can you tell we needed a new G.F Smith sample collection
When working with digital marketing clients I enjoy the fact that every client brings a unique set of challenges and opportunities, and that no two projects are exactly the same.
What are your daily tasks as a Digital Marketer?
My daily tasks at Studio Coact include a variety of responsibilities related to Digital Marketing. On Monday we normally have a team catchup to go over what tasks need to be completed over the course of the week. At this point I normally find out if I need to help out with any of the other teams to add to my daily tasks. 
One of my main tasks is SEO which is optimising content on websites to ensure that it is engaging and effective for the target audience, as well as providing the relevant keywords to rank better in Search Engines. I am also responsible for tracking and analysing website data, including traffic volume and conversion data, using tools such as Google Analytics and Search Console making sure that clients are performing well by identifying and fixing any technical SEO issues. 
If I am not working on SEO clients I will be researching and creating engaging content or scheduling some Social Media posts.  I also monitor social media analytics to understand audience engagement and make data-driven decisions to improve and help a clients overall social media strategy. Other tasks include keeping up-to-date with the latest SEO and Social Media trends and algorithm updates. 
Name one of your favourite moments doing your Apprenticeship at Studio Coact?
My favourite moment during my apprenticeship at Studio Coact was when I completed the tasks within my apprenticeship, this showed me how far I had come in my learning journey.
Not only did I learn new skills from the apprenticeship course, but the opportunity to work alongside the team also allowed me to gain valuable insights and knowledge from their experiences and expertise.
One of the campaigns I particularly enjoyed working on was the National Biscuit Day campaign for the client LEAF Tea Shop. I had the opportunity to work with the creative team and brainstorm different ways to promote the campaign across various social media platforms, including Facebook and Instagram. I helped out by doing the most important task of dunking biscuits for the photo and video shoot. It was a fun social media campaign to work on, I felt like a pro-dunker after completing 156 successful biscuit dunks.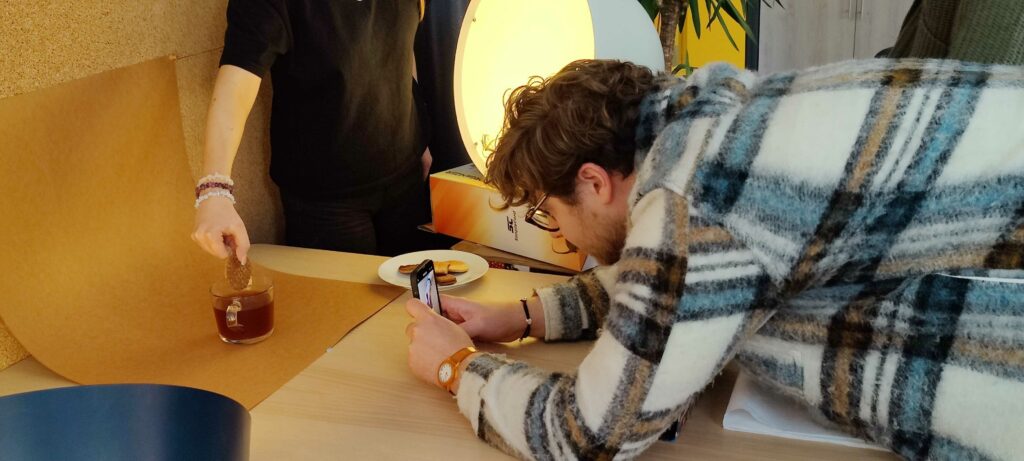 If you had one sentence to describe your apprenticeship, what would it be?
My apprenticeship was an enjoyable experience that allowed me to work with a team while learning and increasing my knowledge about Social Media Marketing and SEO.
What advice would you give for anyone thinking of starting a Digital Marketing Apprenticeship.
If you're thinking of starting a Digital Marketing Apprenticeship, my advice would be to go for it. It's a great way to get your foot in the door if you're looking to learn and develop your skills right away. By doing an apprenticeship you can gain hands-on experience while also receiving guidance and mentorship from professionals in Digital Marketing. You will learn a lot and pick up many new skills along the way that are beneficial if you're looking for a career in Digital Marketing.